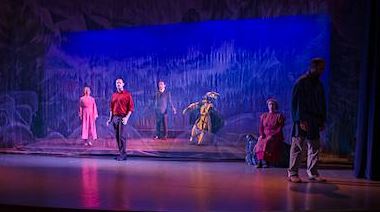 The Karma of Material Work as Shown in the Mystery Dramas
 With Daniel Hafner, Barbara Renold, and Workshop Leaders to Be Announced 
 Friday, March 6 through Sunday, 8 
Come join us for a special weekend of considering what Rudolf Steiner's mystery dramas can reveal about the relationship between art and technology — related avenues of innovation and revelation in the transformation of material into new form.
The weekend will feature four lectures by guest speaker and mystery drama scholar Daniel Hafner, with selections of relevant scenes from the dramas performed under the direction of Barbara Renold. Conversations on the theme and artistic workshops in speech, eurythmy, dramatic scene work, technology, and fiber arts will round out the weekend's activities.
Schedule: The conference opens with dinner and a lecture on Friday, March 6. Saturday, March 7 will be a full day of lectures, artistic workshops, group conversation, and a performance of Scene III from The Souls' Awakening.  On Sunday, March 8, attendees have the opportunity to attend a First Class lesson or services at the Christian Community, followed by a closing lecture and lunch.
Fee: Sliding scale, $115-$275. Youth Section members can attend for $75. The conference fee includes Friday dinner, Saturday lunch, dinner, and breaks, and Sunday lunch at Threefold Cafe.
Information, and to register: Please visit this page.